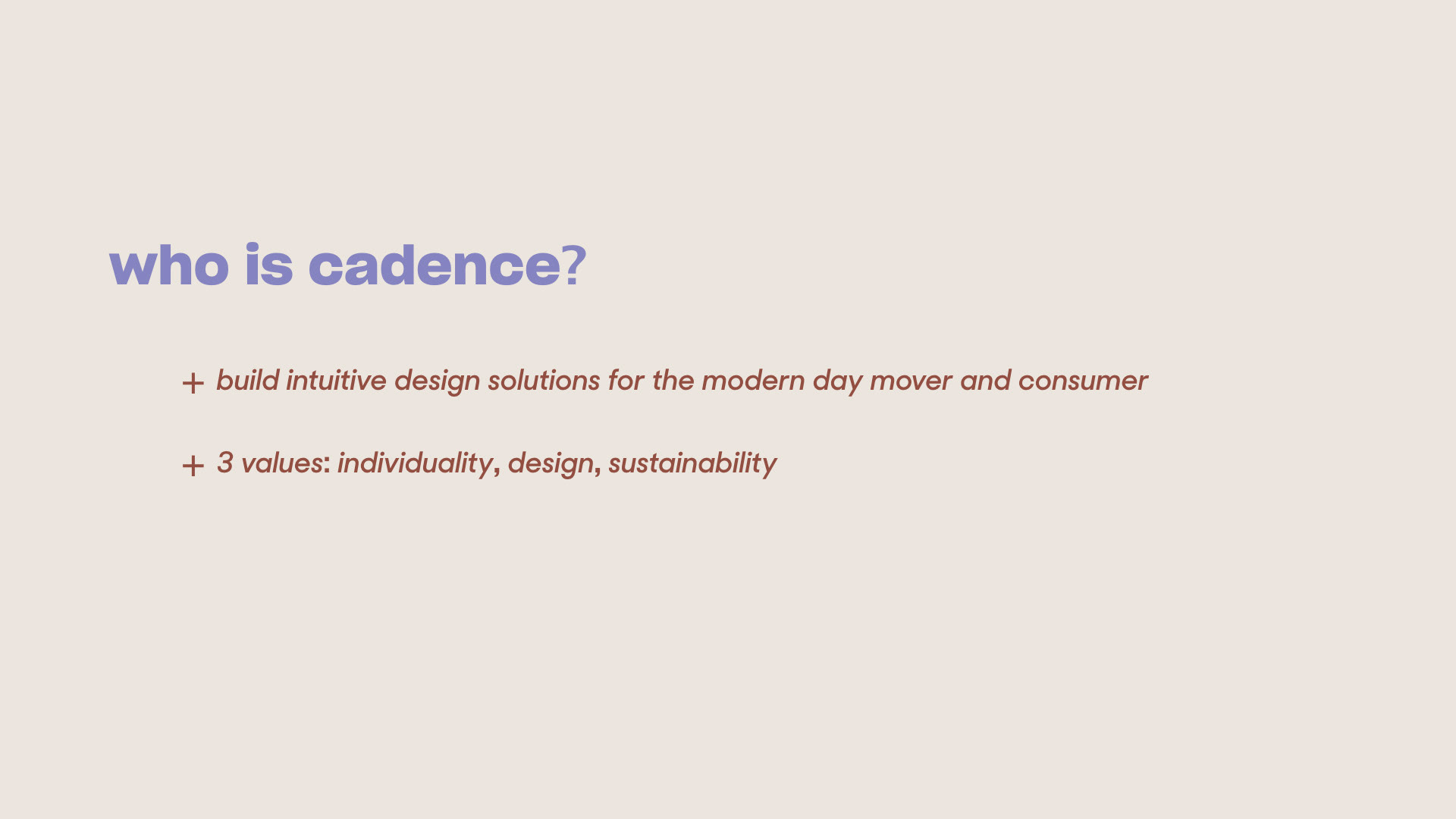 Cadence strives to build intuitive design solutions for the modern day mover and consume
r. They are committed to beautiful design and quality in the personal care space. They have three values:
Individuality, design, sustainability
Steph Hom is the founder and CEO of Cadence. She received her bachelor of science in dance and psychology with a minor in business from Skidmore College.
Prior to starting Cadence, she served as head video editor and creative at Reel Rock International Film Tour.
Brooke McGrath received her degree in social anthropology from the university of St. Andrews.
Graeme Greenwood received his degree in mechanical engineering from Montana state university-Bozeman.
Couldn't find any info on Jack Johnson.
Steph realized that there was no solution in place for a problem that many people on the go had faced for so long. Camping trips, road trips, or work on the go make curating a personal care routine difficult to bring outside of the home.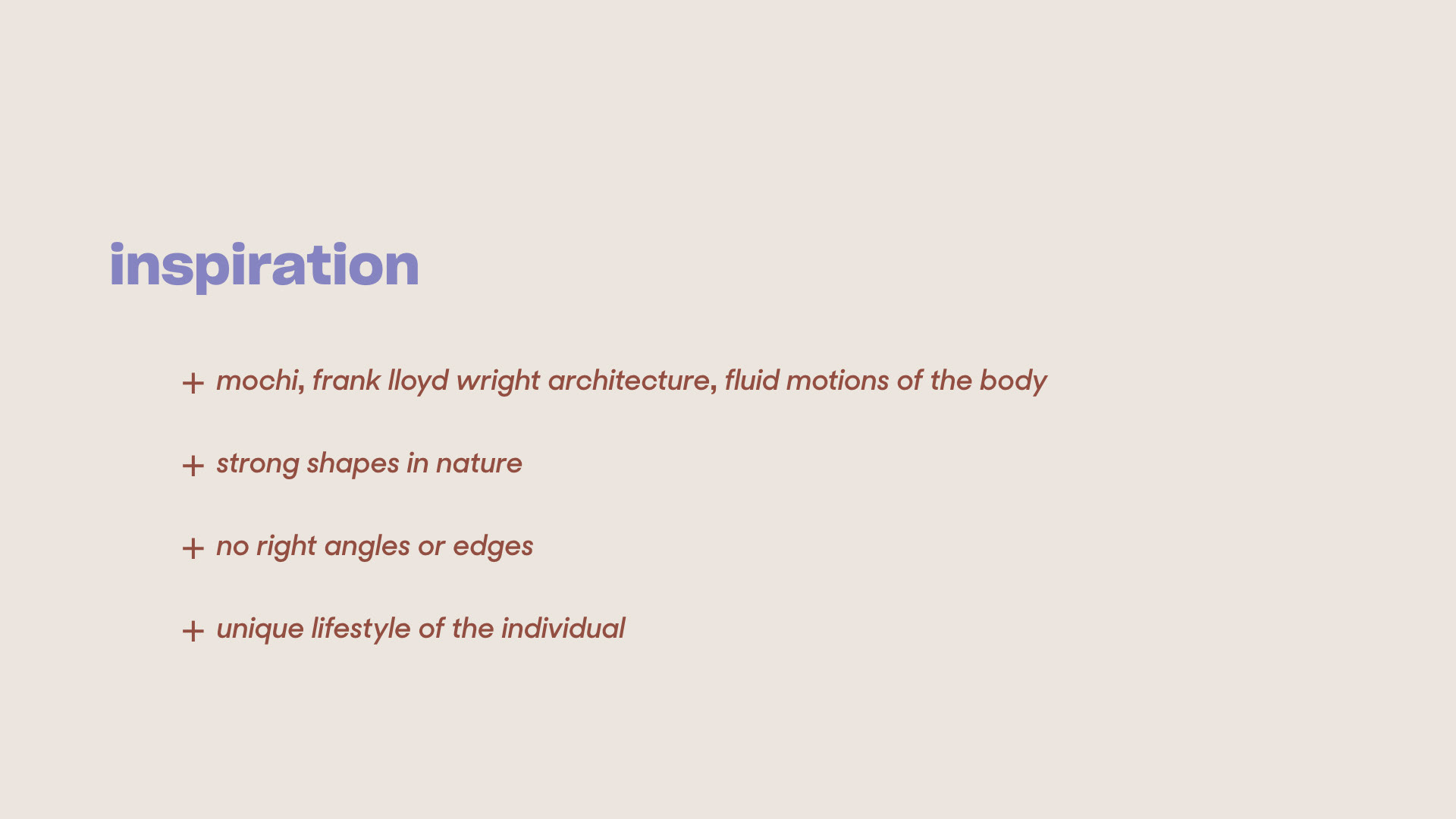 Cadence took inspiration from many sources. The prioritized design elements were consisted from the soft shapes found in foods such as mochi. Frank Lloyd architecture symbolically harmonizes with its environment, so the idea was to introduce sustainability into people's everyday rather than try to adapt those ways into people's routines. Apple AirPods, Rubik's cube, and honey comb were also inspiration for the final product.
Cadence needed to create something everyone needed. Athletes, urbanites, individuals with a skin care routine, or anyone on the go, they all were missing a sustained container option for on the go.
Began by going into public spaces and learning from individuals with human to human interaction.
The research began with going into spaces such as malls, ski resorts, grocery stores, gyms, rock climbing facilities, makeup stores, anywhere they could sit in public spaces and talk to people was an opportunity to learn.
Would ask about daily routines, how many products people travel with, ask whether sustainability was important to them.
establish common interests with people to further gain insight
Part of Cadence's mission is that there is more than one user and there is much to learn form one single experience. They wanted their product to connect all walks of life.
Through these human interactions, gained that their ideal user for would be someone who resonates with sustainability and efficiency. They also understood that their product would need to resonate with people who take supplements and medications through the day as well. Through this research they understood they needed to build an experience that was memorable for their users, and could be brought anywhere
.
About 9 billion single use plastic travel bottles and 6 billion silicone travel bottles will end up on beaches and in landfills in our lifetime.
Tiny bottles create a major problem. The negative impact of the portable personal care industry has latently been ignored in efforts to reduce plastic consumption and waste.
3 part sustainability philosophy:
Part of the struggle with sustainability is that there are few options. The founder talked about how she felt there products she was comfortable with that she had to sacrifice due to her sustainability practices.
Part of this brand's further inspiration was the transformative of the single use plastic water bottle to the reusable fashionable water bottle space, such as Swell or hydroflask.
The founder also discussed how the shared knowledge of sustainability between brands should not be taboo.
In the process of forming Cadences first product, she reached out to many top sustainable brands and they refused to share manufacturers or engineers working for sustainable practices. These manufactures and knowledge shouldn't be hidden from other brands wanting to start their own practices.
Leading recycler of HPDE plastics and supplier of innovative post consumer resin products. Envision has produced nearly 1 billion pounds of recycled resin.
Collects plastic from beaches all around the world by employing local communities
Currently 80% of plastic on the beaches ends up in the oceans. Cadence partners with envision to recycle plastic from the beaches and also to prevent new plastic from ending up there
.
Cadence experimented with 200+ prototypes.
There were many processes of reimagination to create something better than what existed.
By testing out their product in a variety of settings, temperatures, and durability strength tests
With the right engineers and designers cadence released its first product: the capsule
They are made with 50% recycled material. The blend is 20% recycled ocean bound plastic and 30% reused scrap plastic from manufacturing facilities.
Hexagonal shapes because they are the strongest shape in nature within bee hives and rocks. When hexagon gain weight or pressure, the shape becomes stronger. They appear in honeycombs because they're the most efficient way to fill a space with the least amount of material. A circle has extra space around the edges which leads to wasted space inaccessibility.
They have wide openings for scooping every last bit of your product of the capsule so product waste is minimal.
Multiple capsules connect to build a honeycomb system that infinitely tessellates. They easily can be thrown in your purse and found instantly.
They are BPA free, 100% leak proof, and watertight! These capsules were tested in churning water, dropped from ledges, and went through several durability tests.
The lid won't come off due to the capsule lid magnetization. The lids are also customizable with words or icons so each user can curate their honeycomb to their routine.
All of these functions were key to the design and execution of this product for the individual lifestyle of many users.
They are still in the process of trying to create a product that is 100% recycled. Renowned plastic experts say that technology is not where we need it to be to create a reusable, durable and chemically resistant product yet but Cadence is always innovating and is part of the long term solution. The
y are currently in the process of creating more products for the everyday which will be available around the holiday season. I
 really admire this brand and am eager to try their capsule products and see how they continue to innovate in the future.